Saudi SASO Certificate
This is the SASO certificate that HUILIN has just received, which was issued by TUV. Prove that the HUILIN's PSA nitrogen generators meet Saudi Arabia's product standards.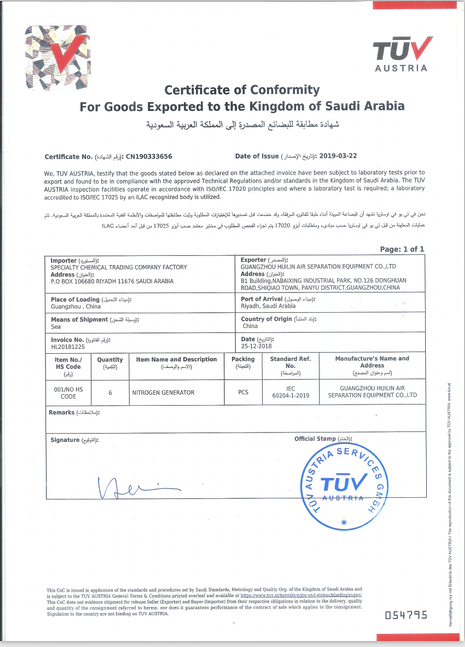 Everyone in the world knows that Saudi Arabia is a local country, but our customer is very cautious and very concerned about the price. He is a middleman who sells our machines to his users. His price is concerned with his own profits.
HUILIN's nitrogen gas generator was completed on time and got the SASO certificate. The customs clearance meeting was very smooth. The customer was very satisfied. I was pleased to ask if we knew about the DODP production line. He needed a DODP production line. This is a big project and the amount will exceed 100 million yuan. It seems that we have paid off for the quality service of our customers.
We have actively contacted the production line and are currently negotiating.
Providing high-quality services to users and creating new achievements in services is the business philosophy that HUILIN adheres to and is also a road to success. https://www.huilingas.com